There is no shortage of hotels in San Francisco, but many travelers seek a unique and distinctive refuge that is conveniently located. That's where The Rex comes in. The Rex is a boutique-style hotel situated on gallery row, at the heart of San Francisco's thriving arts and theater district. The literary theme of Hotel Rex aligns with its location, taking its name from Kenneth Rexroth, a San Francisco poet and essayist.
At The Rex, you'll be surrounded by amazing eateries, nightlife, galleries, and boutique shopping. In addition, a plethora of events are held in-house that can satisfy even the most discerning travelers. On any given night, you may find an author reading or literary talk happening in the hotel library, or live music within the Library Bar. The Library Bar is a big draw for not only hotel guests but also San Francisco locals and travelers staying at other hotels. You can choose from an array of literature-themed cocktails and also enjoy an elegant nightly wine hour.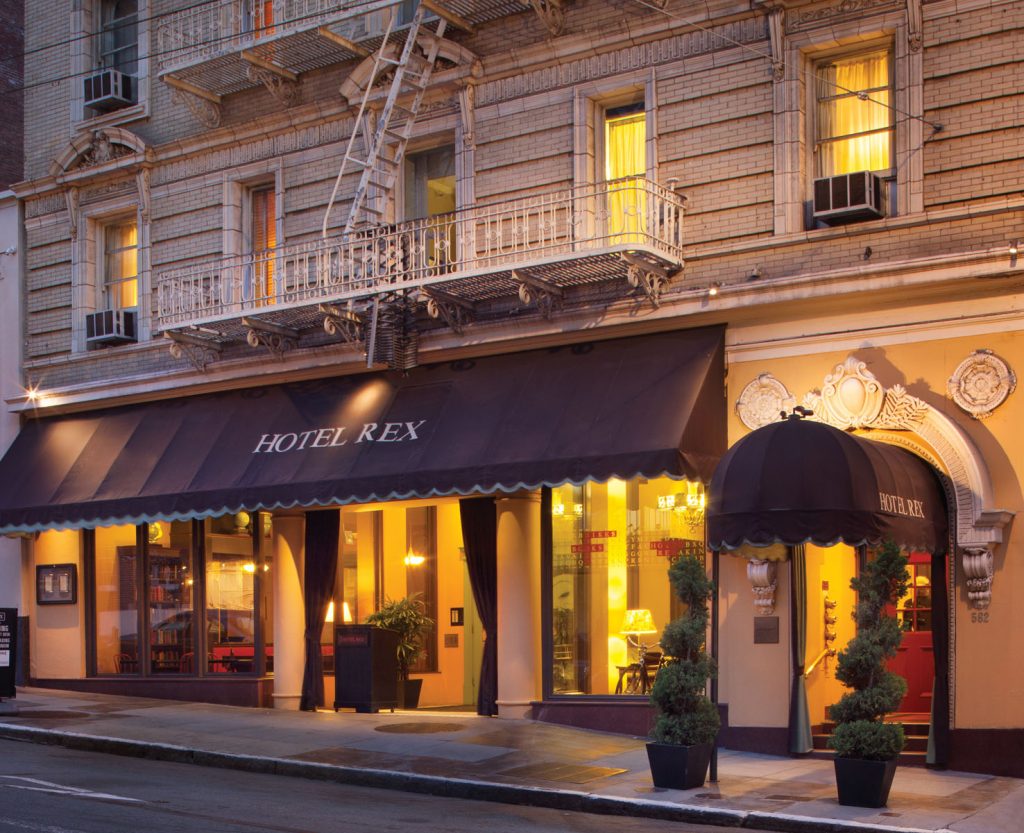 The overall design concept at The Rex creates a sense of coziness and warmth, with vintage typewriters and period furniture.
As a guest, you can take advantage of the concierge service to help you discover nearby gems, no matter what type of venue you may be looking for. Other amenities include complimentary Wi-Fi throughout the hotel, a complimentary glass of wine from 5-6 p.m., complimentary morning tea and coffee, and room service.
The individual rooms at The Rex continue the traditional design seen in the commons areas of the hotel, with striped carpeting and elegant window coverings. You'll enjoy a luxurious pillow-top mattress, an iPod docking station, an honor bar, and bathrobes so you can unwind after a day of exploring the city. The rooms also have one-of-a-kind features, including custom lampshades, hand-painted lamps, and original pieces of artwork.
While surrounded by world-class dining at Hotel Rex, you can grab a bite at the Library Bar, which serves breakfast and a dinner menu made up primarily of American-style fare.
Whether you want to take in a show at the Society Cabaret, visit the Hard Water American whiskey bar, or simply do some sightseeing in San Francisco, Hotel Rex provides the perfect launchpad. You'll get a taste of Old San Francisco along with fresh, one-of-a-kind surroundings.
Update: Hotel Rex is currently known as Hotel Emblem San Francisco, a Viceroy Urban Retreat