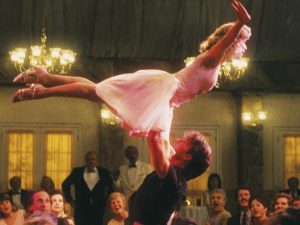 It is, perhaps, along with "Grease", the greatest "chick flick" of all time and for millions of fans of the film, "Dirty Dancing", they can now experience what those characters experienced including staying in the room that Baby stayed in. The Mountain Lake Lodge in Pembroke, Virginia was the actual setting used by the film makers of the classic movie and now everyone is welcomed to experience the feel of their favorite film.
The lodge where the two star crossed lovers, Johnny Grey and Frances "Baby" Houseman, met and fell in love is still there in all of its glory. The Mountain Lodge resort is poised to hold three "Dirty Dancing" weekends during the summer months. Guests will be able to participate in all of the activities that Baby participated in including a watermelon toss and dancing lessons.
When you arrive, you are instantly transported back to Baby's summer vacation at a resort in the Catskills during the summer of 1963.
General manager of the Mountain Lake Resort, Heidi Stone, said, "It's really amazing how many thousands of Dirty Dancing fans we meet every summer. We have guests come from all over the world to enjoy the Dirty Dancing Weekends. It tends to be an extremely popular girls getaway weekend."
The weekend package begins at double occupancy for $445 per person. The film was made on a shoestring budget but went on to become one of the most beloved "chick flicks" of all time. It has grossed over $300 million worldwide and sales of the DVD have been steady for many, many years since the film was made in 1987.
It's signature tune, "I've had the time of my life", went on to win an Academy Award and it was the first move to ever sell more than a million copies on home video.
PHOTO SOURCE: Mountain Lake Lodge / News.com.au