While there may be millions of hotels around the world, it can often be a challenge to find one that offers a sense of personalization and quaint charm, but this is exactly what you'll discover with Abigail's Hotel.
Set in downtown Victoria, British Columbia, this independently-owned bed and breakfast offers a sense of hospitality that you really can't find when staying at a large chain-style hotel.
This boutique hotel offers a sense of intimacy and romance as well, with only 23 rooms making up the property. This adults-only inn was originally constructed in the 1930s and features the Heritage Tudor design style. While much of the historic details remain, you also get the added benefit of accommodations that boast modern convenience and functionality.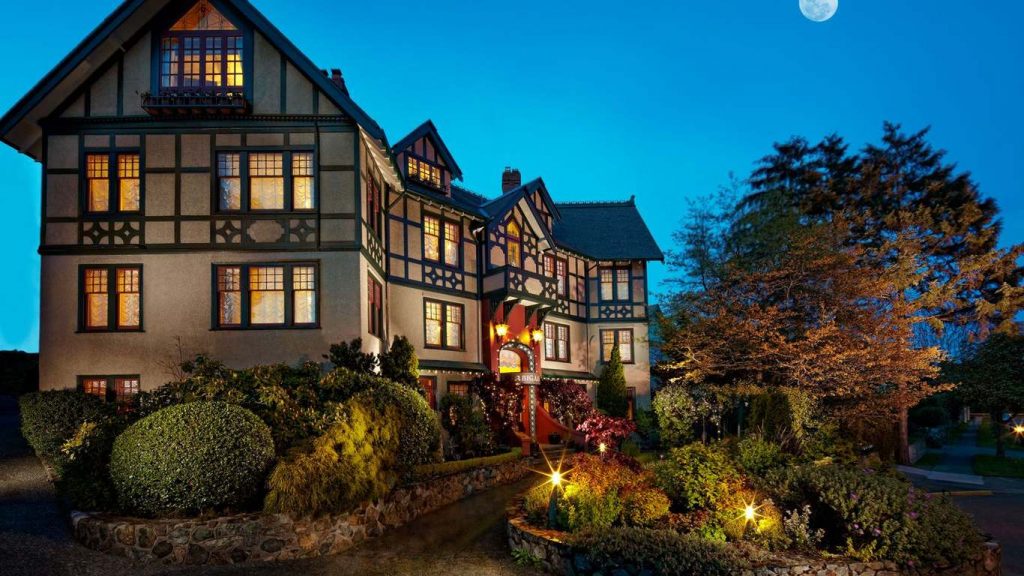 Complimentary Amenities
One of the unique aspects of choosing to stay at Abigail's Hotel is that you receive access to a range of complimentary amenities. In a travel world where it seems like you're charged for every little thing, this is quite a welcome detail.
Some of the complimentary things you'll receive as a guest at Abigail's include a three-course breakfast each day, bottled water, tea and coffee, and freshly baked cookies when you check in. Also part of this list are nightly hors d'oeuvres served in the lobby and free parking and Wi-Fi access.
The Setting
Victoria is revered as one of the world's most beautiful and elegant cities, known for its mild climate, beautiful blooming flowers found throughout the city, and geography that ranges from the rocky coastline of the Pacific Ocean to rainforests and snowy mountain peaks. You really get the best of all worlds when you travel to Victoria. There's also a rich history to be found here, with British influence that abounds.
Dining
One of the premier dining experiences you'll find in-house at Abigail's is the aforementioned three-course breakfast featuring an array of delicacies like freshly squeezed juices and both sweet and savory items.
When it's time for a delightful lunch or dinner, there are a multitude of world-class restaurants within walking distance from the Abigail Hotel.
The Rooms
Since Abigail's is a boutique-style hotel, there's a sense of distinction and individuality you're going to find between each of the rooms.
If you prefer a basic room, you can opt for the Amethyst rooms, which include a spacious queen-sized bed and elegantly appointed bedding. These standard-sized rooms are located on the first and second floors of the Main House.
The deluxe rooms are referred to as Ruby, and they have a bit more space than the Amethyst rooms.
Superior-tier rooms include the Opal, Rose, and Emerald rooms, boasting features like cozy wood-burning fireplaces, jetted soaking tubs, and private locations inside the Coach House building, located adjacent to the Main House.
Finally, if you want to enjoy the ultimate in luxury, there's the Sapphire Room, which includes a four-post king-size bed, a vaulted ceiling, soaking tub, and a wood-burning fireplace.
If you're looking to visit Victoria and you're also seeking lodgings that are a cut above the rest, it's certainly advisable to give Abigail's Hotel a chance.